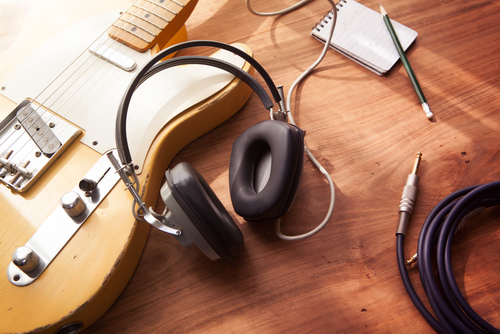 As some of my students and followers are recording and performing artists, for your convenience I was able to compile some extremely valuable information from the 2019 NAMM Show on how to market your music and build your fan base.
I sat in on a seminar called "Music Marketing That Really Builds Your Audience", which was hosted by CD Baby's own Vice President of Marketing, Kevin Breuner. Here are some important pointers about how to properly market your music:
You need a specific "call to action", or CTA. A "call to action" is a specific action you want your visiting fans to take on a specific page. Oftentimes we send visitors to a site that has too many CTAs (a menu bar at the top, a "subscribe" button on the side, a ton of play buttons for music tracks and videos, etc). Too many options distract the visitor, and drastically decreases your click rates on any of those buttons. This leads to my next bullet:
Build a landing page for each CTA. A landing page is a page that zeroes the visitor in on ONE call to action. For example, you can have a landing page to encourage people to sign up to your newsletter, one landing page to encourage people to subscribe to your YouTube channel or Spotify page, a landing page that sends visitors to a featured soundcloud track, etc. There is a website called www.show.co that allows you to build these kinds of pages very easily.
Create entertaining and engaging content. You can mix up your content on your email list and social networks to get fans to get involved with your music. Since Facebook's algorithm rewards you with a bigger reach if your post gets lots of engagement, this is especially important. Great examples of engaging content are polls, Q&As, live videos when you can interact with your viewers, voting contests (my personal favorite because your fans will share your page by default while trying to get more votes), giveaways, quizzes, and more.
Harvest email addresses on Facebook. For many reasons, collecting email addresses is one of the most important assets to your music career. For one, you own that list, which means you're no longer at the mercy of social networks limiting the reach of your fan base. If you have 10,000 likes on facebook and release a post, FB will only show that post to about 1,000-2,000 of those fans on average, if that many, affecting the amount of clicks and sales. If you're lucky you may get anywhere between 10-20 clicks out of that post. However, if you have 10,000 email subscribers (and yes, people still check their emails!) and you send a broadcast, ALL of those subscribers will get the email. Which means if you have an average 25% open rate and a 5% click through rate, that means out of 10,000 email subscribers, you've gotten 2,500 people to open the email, and a whopping 500 clicks over to your content. Secondly, your email list will likely be your main source of music revenue. If you decided to never post on social media ever again, you can still promote to this list for free and still make exponentially more sales than you would on your social networks.
Create a lead magnet for your list. A "lead magnet" is an interesting headline that will get fans interested in knowing more, and they'll be willing to give up their email address to access that information. Once they submit their email, they become a "lead". Some tested and proven examples that Kevin used in his seminar were "Hear the song that got us kicked off the stage", or "Hear the song that one blogger said 'needs more swag'". The visitors will click the link, submit their email, and then access the songs after the email is submitted. Voting contests are another great way to harvest email addresses for your list. Anything that involved story telling, cliffhangers, etc are good lead magnets. It's important to test a few of them to see which ones work best.
Use paid advertising. This was briefly discussed in the panel, but from personal experience, I was able to grow my list for my site to over 16K subscribers, as of the publication of this article, using paid advertising. Even though the advertising platforms for each site is different, such as Facebook, IG, Google Adwords, Youtube, etc, the basics of how to market your music is the same across the board. I could do a series of courses digging in on this topic alone - as a matter of fact, I do plan to release courses soon so stay tuned - here's something to start with: Use a video ad showcasing about 30 seconds of your music, target users who have an interest in artists similar to your sound, and send them to a landing page that either collects their email address (this is preferred), or sends them to your Spotify/Soundcloud/Youtube/etc. You can even use this method to solicit ticket sales. Most advertising platforms have the ability to track your sales and use that data to attract more people similar to your buyers.
I hope this information as been very helpful. To subscribe to my newsletter, click here.